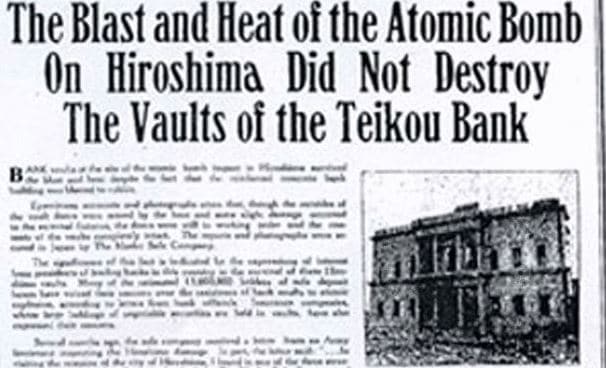 05 May

Interesting Vaults #6

When the Enola Gay dropped a Nuclear Bomb on Hiroshima, the city was close to  obliteration. But downtown, just a football field away from ground zero, the vault at Teikoku Bank sat undamaged. The exterior was destroyed but the interior was pristine.

This is perhaps less surprising when you consider that in those days Banks had to rely solely on the physical security (the thickness of the vault walls) alone to protect the assets held within the vault. Electronic alarms and other security systems were not available at that time.

St. James' Safe Deposit operate two vaults, both of which having survived the best efforts of the Luftwaffe during the Second World War. The Manchester vault survived a direct hit on the main building whilst the Leeds vault stood firm when a German bomb completely destroyed the building adjacent to the vault.

In addition to the excellent physical security offered at both of our vaults, we have equipped both with the very latest in electronic alarm systems and continually review them to ensure you valued items are as safe and secure as possible.

Call us, or alternatively book a tour here to allow us to showcase the security and peace of mind we offer for you and your precious items.