Are you based in Bradford and require high-security storage for your cash and valuables? Offering the best value for secure storage in the North of England, St. James' Safe Deposit is a family-run business that has provided high-security safe deposit box rentals for over 100 years. 
Our centrally located premises in Leeds is easily accessible from Bradford, offering you convenience, value for money and peace of mind. 
With purpose-built underground vaults and a dependable commitment to security, we are proud to serve the community of Bradford and surrounding areas.
Why Choose St James' Safe Deposit as a Bradford Resident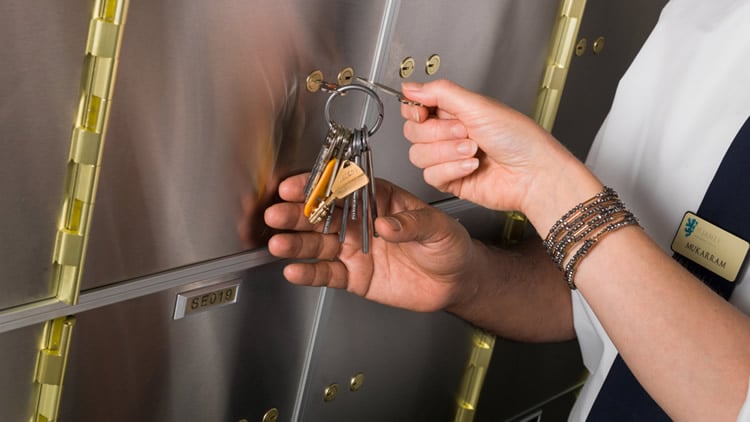 Security is at the heart of our business, and both of our city-centre locations in Leeds and Manchester feature first-class security systems that are regularly reviewed by an industry specialist.
Alongside this comprehensive security, however, we also offer convenience and outstanding customer service, including:
Free unlimited access

Quick and easy registration

Availability every day of the week

No joining fee

Annual rentals starting from £120 (inc VAT)
Our purpose-built vaults are situated in central Leeds, which offers a distinct advantage over safe deposit box providers operating in more suburban locations, both in terms of your convenience and the security of your valuables.
Surrounded by banks, businesses and restaurants, as well as a network of sophisticated surveillance systems, our central location provides a further buffer of security and natural deterrent to theft.
Established in 1912, we have experience built over a century and the personal dedication that comes with being a family-run firm. Since we first opened our Manchester vaults for business, we have never had a break-in and none of our depositors have ever suffered a loss.
Reaching St James' Safe Deposit from Bradford
Our Leeds branch is located on Russell Street, just off Park Row and opposite HSBC Bank. Getting here is a straightforward drive from Bradford that takes roughly 30 minutes, with a variety of options for parking close by and a variety of taxi firms serving the area.
We are also only a short five-minute walk from Leeds Train Station, with direct trains leaving to and from Bradford several times a day. 
What is a Safe Deposit Box? 
A safe deposit box is one of the safest ways to store valuables – available in several different sizes to suit your needs – with several layers of security protecting your property all the time it is in our care. 
We also offer absolute privacy and discretion – you do not need to tell us what you are storing and we have private viewing rooms available for your convenience.
This offers peace of mind that may be hard to achieve by storing precious items in your home, where adverse events such as fire or burglary could put them at risk. 
You may also find that your home insurance becomes cheaper by storing your valuables with us. 
Accessing Your Safe Deposit Box at our Leeds Branch 
Once you have arrived from Bradford, our welcoming team will take you through our thorough but unobtrusive security checks in a stress-free process.
As a Bradford resident, with St James' Safe Deposit you will have the reassurance that your most valued possessions are close by, easily accessible to you and under the guardianship of a team of experienced professionals. 
If you live in Bradford and are interested in storing your valuables with us, you can contact our Leeds premises here.