If you live in Oldham or its surrounding areas, the Manchester premises of St James' Safe Deposit are ideally located to provide secure storage for your most treasured possessions. 
We represent the best value for high-security storage in the North of England, with over a century of experience making us careful and considerate custodians of your cash, jewellery and other valuable items. 
Serving the North of England since 1912, we already provide safe and secure storage to numerous residents of Oldham and the surrounding areas of North Manchester.
Why Choose St James' Safe Deposit as an Oldham Resident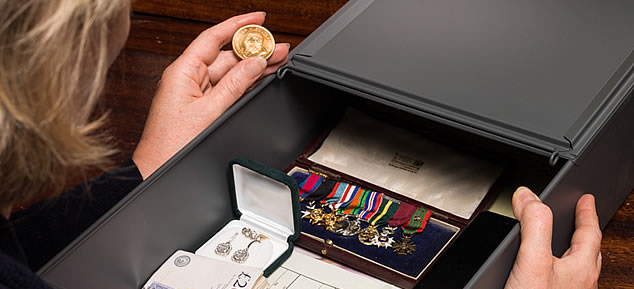 Security is at the heart of what we do. St James' Safe Deposit has operated in Manchester since our business was established in 1912, and we are extremely proud of our track record.
Our purpose-built vaults are situated in central Manchester, which offers a distinct advantage over safe deposit box providers operating in more suburban locations, both in terms of your convenience and the security of your valuables. 
Surrounded by banks, businesses and restaurants, as well as a network of sophisticated surveillance systems, our central location provides a further buffer of security and a natural deterrent to theft. 
Since we opened in 1912, we have never had a break-in and none of our depositors have ever suffered a loss. We have first-class security systems which are monitored 24/7 and are regularly reviewed by an industry specialist. 
We pride ourselves on offering our customers a discrete and confidential service and additional benefits include: 
Free unlimited access

Quick and easy registration

Availability every day of the week

No joining fee

Annual rental fees start from £85 (including VAT)
We are confident that we offer the best security which includes round the clock remotely monitored and recorded CCTV and our staff are trained to ensure that accessing your valuables is a controlled but stress-free experience. 
Reaching St James' Safe Deposit from Oldham 
Our Manchester premises are located on Oxford Street, fifty yards from the Palace Theatre. This is a straightforward drive that takes roughly 30 minutes via the A62 from Oldham, with a public car park a short walk away on Great Bridgewater Street. 
If you would prefer to travel by tram, the journey takes roughly 40 minutes, with the closest tram stop (Oxford Road Station, Stop E) just two minutes walk from our premises. 
What is a Safe Deposit Box? 
A safe deposit box is a secure, private storage box that you can rent for the safekeeping of your valuables, and it is one of the most reliable ways to protect cash, jewellery and important items. 
While home security systems and personal safes can be effective, burglaries and adverse events such as fires can still pose a risk to valuables in the home. Safe deposit boxes are a reassuring alternative, and one which can reduce your home insurance. 
If you live in or around Oldham, with St James' Safe Deposit you will have the reassurance that your possessions are close by, easily accessible and under the guardianship of a team of experienced professionals. 
To find out more, contact our Manchester premises by clicking
here
.